As the wise saying goes, "The most important thing a father can do for his children is to love their mother. "
I would go one step further and say that the most important thing parents can do for their children is to love their children's other parent. In other words, moms need to love their children's dad too.
Today, I celebrate my 20th wedding anniversary with my husband. As I reflect back on our years together as a couple, and subsequently as parents, I am extremely grateful for the bliss, joy and love this relationship has brought us. More importantly, I am grateful my children have witnessed and experienced a loving and respectful relationship between my husband and me.
There is no better way for our children to learn how to behave in a healthy loving relationship than have their parents role model it. Of course, in abusive relationships, we need to show our children how we stand up for ourselves, seek help for the abusive parent, and if necessary, leave the relationship. But for now, we are looking at normal, healthy spousal relationships.
What Is Love?
What do our children learn from observing how we behave with our spouse? Simple. They learn how love looks like. They learn it's not all fluff or floating on cloud nine all the time. They learn that "living happily ever after" takes effort and is a conscious decision EVERY SINGLE DAY. In other words, they learn the realities of a loving relationship.
But what are those things that make a relationship work? What are the efforts we need to put in?
1) Trust
Trust is the foundation of a strong relationship. Without trust, nothing works.
Some say trust needs to be earned. Some say trust needs to be given. For me, trust is something we give based on previous experiences with the person. Most of the time, when we say "I do" at the altar (or wherever we say our marital vows at), we trust the person with whom we are marrying. And it is CRITICAL that the trust is not breached or abused.
When we trust our spouse, we do not question their actions, words or intentions.
What do our children learn?
They learn that trust, like integrity, is extremely important. They learn that trust, once lost, is hard to regain. They learn never to abuse the trust of someone they love. They learn what it means to be trustworthy. Most importantly, they learn they can trust us.
2) Open Communication
If trust is the foundation of a strong relationship, then open communication is the glue that gels it together.
Open communication with our spouse requires us to be vulnerable with each other, to share our fears, anxieties, hopes and aspirations. It also allows us to share our frustrations and anger without fear that our spouse will take those negatively or personally. That is why trust is critical in a relationship. With trust, open communication comes more easily.
It is with open and honest communication that we can understand our spouse better and vice versa. With understanding, we can appreciate why they do what they do, why they say what they say and vice versa. There will be fewer opportunities for misunderstanding because we know what is going on. But of course differences will still exist. That is why a strong communication link is the bridge that will help us mitigate differences. Trust and open communication allow us to talk calmly and listen attentively to each other ALL THE TIME.
As far as possible, my husband and I have open conversations in the presence of our children. They hear us air our joys and unhappiness. They hear us talk about the future and our concerns. They hear how we resolve scheduling conflicts or make compromises. They hear our thought processes on why things are the way they are and why we do the things we do.
What do our children learn?
They learn the importance of communication. They experience how it helps them manage their expectations. They see how we reason things out calmly and how we listen to each other without interrupting. More importantly, they learn they can trust us with their secrets and their fears and they no longer feel alone with their struggles.
3) Respect
If trust is the foundation of a strong relationship and open communication is the glue that gels it together, then respect is the result we will get.
What does respect look like? No, we don't have to address our spouse as Sir/M'am or Mr/Mrs so-and-so. But it does mean we use the word "please" a lot.
Respect is about being mindful of our spouse's wishes, their likes and dislikes and how they feel. It's about reaching important decisions together. It's also about not making demands but making requests with "please"s. More importantly, it is about being respectful even behind our spouse's back. In other words, we do not badmouth our spouse EVER. We may disagree with what they do or say, but we never attack them without them being present to defend themselves.
Nothing destroys a relationship faster than being disrespectful to someone or undermining that person's authority. This is because disrespect by one person essentially translates to "I don't care about you or what your think" and/or "You don't matter at all." It makes the other person lose trust in the relationship. It's no wonder a relationship will fail in that sort of toxic environment.
Does it mean we must always agree with our spouse no matter what? Obviously not! We must iron out differences and disagreements but we can do that respectfully.
There is an ongoing joke in our family. When my husband and I first started dating 26 years ago, I had read in magazines that a couple must have a big quarrel before they can get married otherwise, their marriage might not survive their first quarrel. I had told my then-boyfriend that we needed to find something to quarrel about." And he had jokingly said, "You want to quarrel? Let's quarrel about needing to quarrel." Recently, I brought this up again, and again his reply was, "Let's quarrel about needing to quarrel." 😀
My husband and I have been in a relationship for 26 years now, and till today, knock on wood, we have yet to muster up a reason to quarrel. Do we have disagreements? Of course! But we have never found the need to scream at each other or tear down each other in the attempt to push our views across. We have been able to air our views respectfully mainly because we have been able to sit down and listen to each other calmly. There were times when we agreed to disagree, but to be honest, I can't remember what those were. 😛
How are we able to achieve that? Simple. It all boils down to our mindsets. We believe the other person is just as intelligent as ourselves, if not more. We believe that both of us have the best interest of the family. We believe that we could be looking at things from a different perspective and that it is important to see things from the other person's perspective. We believe that if we work together and put our heads together, we could come up with a better idea or solution than bulldozing our way through. We believe that acknowledging we were mistaken will not diminish our standing with each other or with ourselves.
Basically, we believe we have made the right choice when we said "I do" all those years ago.
What do our children learn?
They learn how to be respectful, not just to their parents, but to their siblings, to their friends, and everyone around them. They learn to mind their "P"s. They learn how to disagree respectfully. They learn it is not embarrassing to back down on their views when someone presents a stronger case. They learn that working together with a common goal is more empowering and effective than working to undermine someone else's authority. They learn that issues can be resolved without raised voices, fights or violence. And that will help them resolve conflicts amicably when they grow up.
4) Appreciation
So for there to be a strong relationship, we need to have trust, open communication and respect. And when we have respect for someone, we will very naturally show our appreciation to that person.
A healthy relationship REQUIRES, yes, requires, a show of appreciation. Why? Because it means we have not taken that person for granted. It shows we respect the person and what he/she has done for us. A simple "thank you" means a lot to keeping the relationship strong. It shows we acknowledge our spouse's effort for doing something for us, even if it is as simple as getting us a drink, or even calming an upset child.
Some may object and say, well, the child is our spouse's too so why should we thank them for watching or calming the child. The answer is simple. Would it make us feel better if our spouse acknowledge and show appreciation to us when we care for our children? Would a "Thank you for waking up in the middle of the night to soothe baby", or, "I know it's been hard on you looking after our girl when she was sick" bring warmth to our hearts? " If the answer is yes (even if we think it is not necessary), then it means the "thank you" adds to our emotional bank account with our spouse. Likewise, when we thank our spouse, it adds to their emotional bank account with us.
In our family, thank you's are expected and usually automatically given. If someone forgets, my little preschooler will remind them to say their thank yous. We mind our "Q"s because we respect everyone and do not take anyone for granted.
What do our children learn?
They learn to show appreciation for everything. They learn not to take anything for granted. Most importantly, they learn not to take us, their parents, for granted. They learn to say thank you. They learn to appreciate everything and everyone. And that will help them build strong relationships in all areas when they grow up: with their friends, their co-workers, their spouse, their in-laws, their children, everyone.
5) Acceptance
We have looked at the importance of trust, open communication, respect and appreciation. The next ingredient to a strong healthy relationship is acceptance. Yes, it means not attempting to change the other person. I mean, if we attempt to change someone, we are not being respectful of that person, are we?
It's hard to live with someone who is always doing their utmost best to change us or our behaviour. There will always be tension if we want our spouse to do things the way we want them to or vice versa. When we said our "I do", we were ok with the person we were marrying. After marriage, it is important for us to continue being ok living with the person as they are for the rest of our lives.
No one is perfect. We most definitely aren't and so we cannot expect our spouse to be. We will end up creating a lot of undue tension for our spouse by attempting to change them, and we will be creating unnecessary disappointment for ourselves when our spouse refuses to change. Instead, let us just learn to accept. Breathe… Let. It. Go.
Jim Rohn once said that for things to change, first we must change. We have to change the way we look at things, the way we look at our spouse. Then and only then we can accept our spouse for who they are, flaws and all.
I know I am not perfect, and neither is my spouse. There are things about him that drive me up the wall and I am 100% sure he pulls his hair out at some aspects of me. However, I have learned to remind myself of all the things I love about him each time I get upset with him. And suddenly, I will no longer feel irked. Over the years, I get better and better at shrugging things off and loving him even more. Sure, there are still times I find myself up on the wall. But my recovery time has shortened. 😛
I am sure my dear husband has his own ways of dealing with all my flaws and imperfections for he has not moved to "improve" me. I know there are times he gets really frustrated with me, but he has been able to achieve equilibrium rather quickly too.
We have changed the way we looked at the flaws in each other and because of that, our relationship has thrived.
Speaking of change, we all know that change is the only constant. People change. The spouse we have today is not the same person we married. Our spouse has changed, as have we. Our interests could have changed. Our habits could have changed. Our outlook in life could have changed. And with each change, the only way we can continue accepting each other is if we have open communication. Otherwise, one day we would wake up and realize to our horror that the person next to us in bed is a total stranger.
What do our children learn?
Our children learn that love is unconditional. They learn that we will accept them as they are and love them for who they are, not what we want them to be. They will feel safe. They learn they can be authentic in a relationship, that they do not have to wear a mask. More importantly, they learn to accept others as they are. They also learn that acceptance requires open communication based on trust and respect.
Conclusion
A strong relationship takes work. It takes investment in time and effort. It is based on the foundation of trust, from which open communication thrives. With that, respect grows which in turn gives rise to appreciation and acceptance.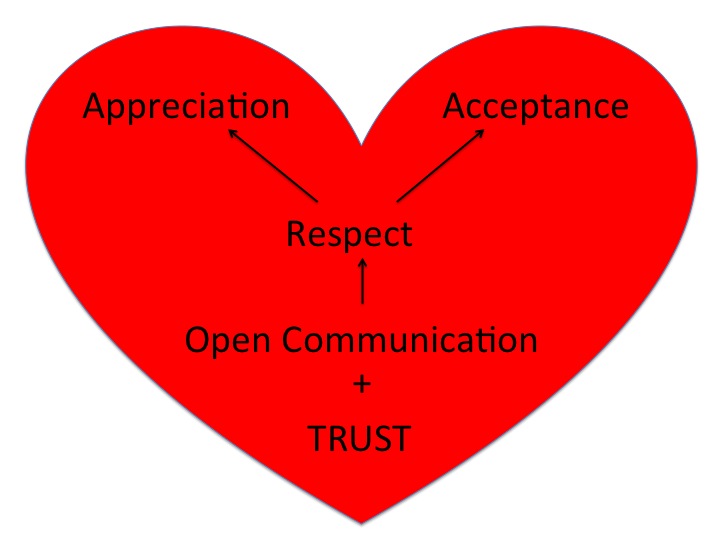 The best part of cultivating a strong relationship is with our spouse is that our children are watching, learning, and modeling after us. Not only will they feel safe growing up in a loving environment, they will learn how to nurture a loving relationship when they grow up.
Happy parenting!
– Vivian Kwek –