I recently watched Alice Through The Looking Glass with my children. There were so many lessons we could learn from that show. But there was one in particular that stood out for me. It was from a scene where Mirana, the White Queen, apologised to her sister, Iracebeth, the Red Queen. And the latter had said, "That was all I ever wanted to hear."
Touching Scene From Alice Through The Looking Glass
For those of you who have not watched Alice in Wonderland or Alice Through The Looking Glass, here's a quick run through. Iracebeth, the exiled Red Queen, hated her sister, Mirana, the White Queen. Iracebeth did everything she could to topple Mirana and cause her harm. In Alice in the Wonderland and halfway through Alice Through The Looking Glass, we were led to think it was because Mirana was kind and beautiful, and Iracebeth was jealous of her. Later in the sequel, we learned that there was more to that jealousy.
It turns out that when they were young, Mirana had lied to their mother, which resulted in the latter wrongly accusing Iracebeth of something she did not do. In a fit of anger, Iracebeth had ran out of the castle, tripped and hit her head on a stone wall. The pain as well as the anger at being betrayed by her sister and at being wrongly accused by her mother led her to bellow with all her might. That resulted in her head expanding to its enormous size. Henceforth, Iracebeth blamed Mirana for her resultant deformity.
And it was due to this deformity that the crown broke during Iracebeth's coronation when it was being force fitted over her abnormally large head. When she had a melt down as a result of that humiliation, her father denied her the crown and gave it to Mirana instead. That sealed Iracebeth's hatred for Mirana because Iracebeth felt the losing of her crown was a direct result of Mirana's lying years ago.
In the final moments of Alice Through the Looking Glass, Mirana finally apologized to Iracebeth.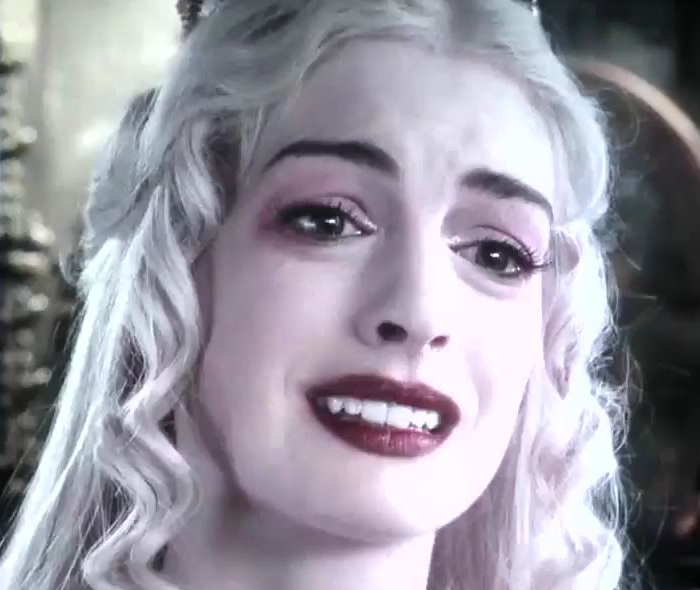 "I'm sorry."
The countenance of Iracebeth softened. She teared and said, "That was all I ever wanted to hear."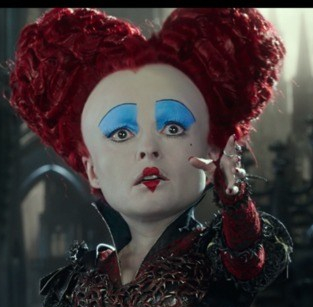 "That was all I ever wanted to hear."
Imagine that. All the hatred and anger Iracebeth held against Mirana could have been mitigated years ago. Mirana would not have to deal with all the plotting and fighting with Iracebeth if she had apologised years ago.
Sorry Seems To Be The Hardest Word
How many of us have gone through experiences where a simple apology could have done so much for us? Of course as we grow older, we learn to forgive, we learn to let go, we learn that holding a grudge is like poisoning someone else by drinking the poison ourselves. We learn that we need to forgive even if no apology is forthcoming.
But what if an apology did come? What if the person or persons who had hurt us, intentionally or unintentionally, apologised? I don't know about you, but I find that the earlier the apology came forth, the easier it is to let go of the offending event or action.
However, over the years, I have learned to let go and not take offence even if I do not receive an apology. It was a necessary skill because some of the people I care deeply never apologised for any big or small hurtful things they had done. There are many reasons why people do not apologise:
they do not THINK what they have done is hurtful, or
they do not KNOW what they have done is hurtful, or
they do not WANT to admit what they have done is hurtful even if they know it is so, or
they hope everyone has amnesia and PRETEND they have not done the hurtful deed, or
it's just NOT something they do.
Whatever the reason, the apology is not forthcoming. If I had to wait for it to come before being able to forgive, the resentment will fester in me and hurt me more in the long run.
So for my sanity and emotional health, I would forgive, again and again, regardless of whether I receive an apology or not. More importantly, I have learned to apologise, maybe because I value apologies since they are so hard to come by.
How Does Apology Help Parenting?
So how does that help in parenting? I have learnt that we need to apologise to our children if we have done something that hurt them, embarrassed them, or belittled them. It does not matter if the hurt is caused unintentionally. How the hurt comes about becomes irrelevant when the fact remains that they have been hurt by our words or actions.
So how does apologising to our kids help in parenting? Wouldn't it cause our children to doubt our ability? Wouldn't it lead them to think we are weak? Wouldn't it undermine our authority?
My answer to those questions is "no". On the contrary, "I'm sorry" is a very powerful phrase for parents. Why?
1) It removes resentment and builds connection
How do we feel when someone we love hurt us? Do we yearn for an apology? Why do we want an apology? If that person does not apologise, how do we feel? It is no different for our children. Remember, they too are humans. They too have feelings.
When our children feel hurt by us, our connection with them breaks. To rebuild it, they need to know we are sorry for hurting them. When we verbalise our apology, they know we know we are wrong, they know we regret what we have done, and they know we care about how they feel. All these help them feel reconnected with us.
The beautiful thing is our children are extremely forgiving beings. Our emotional bank account with our children is filled to the brim when we first start our parenting journey with them. Hence, the younger they are, the more forgiving they are. It would take A LOT to deplete our emotional bank account with them.
However, if we consistently refuse to apologise for our mistakes with them, for the things we have done or said that hurt them, our emotional bank account with them will slowly deplete, and at some point, run dry. Typically, that happens when our children reach adolescence. If we deplete our account with them when they become teens, that's when we will have a whole lot of defiance issues and experience a full-blown teenage rebellion.
In other words, the size of our teens' rebellion is indirectly proportional to the size of our emotional bank account with them. The bigger our emotional bank account is with our children, the smaller their rebellion and defiance. The smaller our emotional bank account is with them, the bigger their rebellion and defiance.
Apologising does not cause our children to doubt our ability. Instead it leads them to see our humility and to know we care about how they feel. And because they know we care, they will feel more connected to us.
2) It models repentant behaviour
Secondly, we know children learn through modeing. That is why we are deathly afraid they will fall into wrong company and learn "bad stuff".
How do we expect our children to apologise if they have not seen what that behavior looks like? Our children do what we do, not what we say. Hence, if we want our children to apologise for their mistakes or their wrongdoings, especially when they reach the teen years, it is crucial we model for them what being apologetic looks like.
Apologising does not make us weak. On the contrary, it illustrates strength and bravery. It helps our children look up to us for being able bold enough to be vulnerable, to acknowledge our mistakes and to look for ways to improve ourselves. These are excellent values for our children to emulate.
3) It teaches accountability
More importantly, it teaches our children to accept responsibility for their own wrongdoing because they see us doing likewise. It shows us up as people with integrity, who will own up to our mistakes.
Apologising does not diminish our authority. Instead, it shows our children that our deeds are separate from us, that even though we may have made a mistake, we are not the mistake, that we can learn from the mistake and become even better.
It helps our children build their self-esteem to understand that their mistakes do not reflect who they are. Instead, mistakes are learning opportunities for everyone to grow and become better. It helps them separate the deeds from the doer and know they too can rise above their mistakes. And should they fail in whatever they do, they will know they themselves are not failures.
Rather than diminishing our authority, our ability to apologise actually builds our authority, for we become better and stronger in the process of acknowledging and learning from our mistakes.
Conclusion
At the end of the day, apologising makes us more human and more approachable. As a result, it makes it easier for our children, especially our teens, to associate with us and to connect with us.
So parents, feel free to apologise to your children. They will thank you for it.